战略是你所做的,而不是你所说的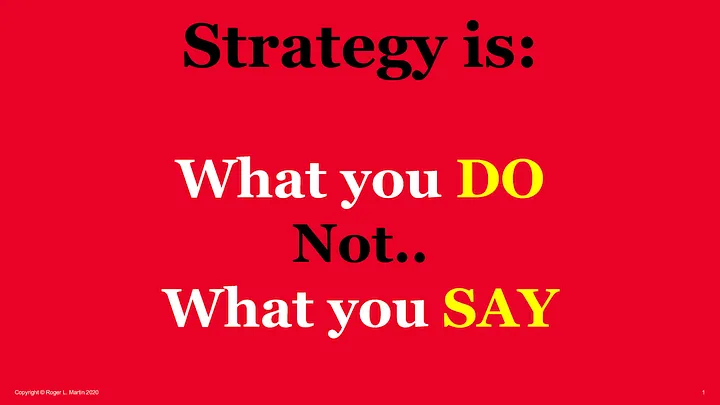 Copyright: Roger L. Martin, 2020
版权所有。Roger L. Martin, 2020
This is the 4th in my Playing to Win/Practitioner Insights series and it is on Strategy is what you DO not what you Say. (Links for the rest of the PTW/PI series can be found here.)
这是我的 "打赢"/"从业者洞察力 "系列的第四篇,内容是 "战略是你的行动,而不是你所说的"(PTW/PI系列的其他链接可以在这里找到)。
In his research on interpersonal behavior patterns, the late management scholar Chris Argyris, noted that there is often a dramatic difference between what people say they are doing and what they actually do. He called the former, Espoused Theory and the latter Theory-in-Use. For example, a person's Espoused Theory could be that "I always listen carefully before offering my opinion." However, if the person's behavior is observed, the Theory-in-Use might actually be that the person listens only if the other person is saying something agreeable and cuts the other off if he or she heads in a contrarian direction. Argyris pointed out that this sort of disjuncture between Espoused Theory and Theory-in-Use renders individuals much less effective in accomplishing their goals and, sadly, incapable of figuring out how to learn and improve.
已故管理学家克里斯-阿吉里斯(Chris Argyris)在研究人际行为模式时指出,人们所说的和他们实际所做的往往存在巨大的差异。他把前者称为 "期望理论",后者称为 "使用理论"。例如,一个人的理想理论可能是:"我总是在提供意见之前仔细聆听。"然而,如果观察这个人的行为,他的 "使用理论 "实际上可能是:这个人只在对方说了一些同意的东西时才听,如果他或她朝相反的方向走,就把对方打断。阿吉里斯指出,这种 "理想理论 "和 "使用理论 "之间的脱节使个人在实现其目标方面的效率大打折扣,可悲的是,他们无法弄清如何学习和改进。
I see the same schism between Espoused Theory and Theory-in-Use in strategy with similarly deleterious effects. The schism comes in two basic flavors.
我在战略上看到了 "理想理论 "和 "实用理论 "之间的同样分裂,并产生了类似的有害影响。这种分裂有两种基本形式。
Flavor #1: Tough Guys/Gals Don't Do Strategy
味道#1:强硬的人/女孩不做战略
Many executives who pride themselves on being practically or operationally focused will claim that they don't do strategy or don't have a strategy because they are focused what is truly important: operations/execution. They will often declare that after they have finished dealing with the pressing execution issues, they will turn their minds to strategy — ...