太忙 "意味着你的个人战略很糟糕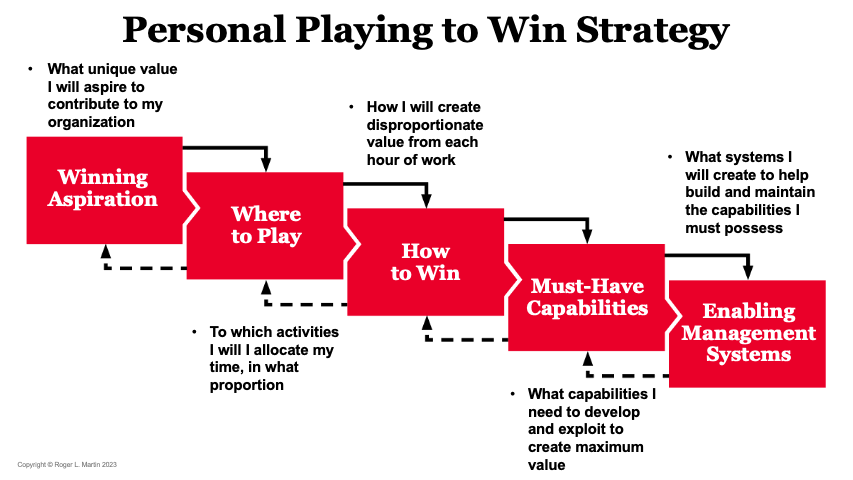 Source: Roger L. Martin, 2023
资料来源:《世界日报》。罗杰-L-马丁,2023年
People inform me they are busy as if it is a badge of honor. For me, it is a signal that they have a weak personal Playing to Win strategy. To explain why, my 7th Year III Playing to Win Practitioner Insights (PTW/PI) piece discusses Being 'Too Busy' Means Your Personal Strategy Sucks: You Need a Better Where-to-Play/How-to-Win. You can find the previous 117 PTW/PI here.
人们告诉我他们很忙,好像这是一种荣誉的象征。对我来说,这是一个信号,表明他们的个人打赢战略很薄弱。为了解释原因,我在第7年第三期 "打赢 "实践者洞察力(PTW/PI)文章中讨论了"太忙 "意味着你的个人战略很糟糕。你需要一个更好的 "去哪里玩"/"如何赢"。你可以在这里找到之前的117篇PTW/PI。
Busyness in the Knowledge Economy
知识经济中的忙碌
The essential unit of production in the knowledge economy is the human, and that unit has a couple of tricky features. First, its capacity is limited. It has only so many hours of the day to produce. Unlike a factory or mine or farm that can be expanded, its capacity is fixed. Second, each unit of production is unique, and hence not entirely fungible. When you expand a factory, you can add another production line that is identical to the other lines in the factory and thereby increase capacity in a homogeneous, seamless way. It is not impossible to do in the knowledge economy. Organizations expand capacity by adding another unit of production — i.e., another person — but as much as the organization would wish, the addition isn't homogenous or seamless. At a minimum, both the original person and the new person have to spend lots of time meeting with one another to coordinate their activities.
知识经济中的基本生产单位是人,而这个单位有几个棘手的特点。首先,它的能力是有限的。它一天中只有那么多的时间可以生产。不像工厂、矿场或农场可以扩展,它的能力是固定的。第二,每个生产单位都是独一无二的,因此不完全是可替换的。当你扩大工厂时,你可以增加另一条与工厂中其他生产线相同的生产线,从而以同质、无缝的方式增加产能。在知识经济时代,这并非不可能做到。组织通过增加另一个生产单位--即另一个人--来扩大产能,但尽管组织希望如此,这种增加并不是同质或无缝的。至少,原来的人和新来的人都要花很多时间相互见面,协调他们的活动。
The organizational challenge intensifies as the non-fungibility of the unit of production increases. If the unit of production is Julia Roberts, Warren Buffett, Taylor Swift, or Patrick Mahomes, there isn't another unit of production that is even remotely c...